The TK72R Rechargeable Flashlight is Fenix's most powerful flashlight to date; throwing a light beam over 300 yards with a maximum light output of a blinding 9000 lumens! Operation is made easy by its three stainless steel button interface. Choose from any brightness level from 100 to 9000 lumens (increments of 100) by simply pressing the PLUS or MINUS buttons. The OLED display shows the flashlight's current status, including brightness level in lumens, available runtime and remaining battery level. The included battery pack is micro-USB rechargeable and can also be used as a power bank to charge other devices. Waterproof and dust proof, this flashlight is comfortable in rough spots where extreme light and versatility are at the forefront.
SPECIFICATIONS
Max Lumens: 9000
Max Beam Distance: 938 feet (286 meters)
Max Runtime: 50 hours
Lighting Modes: Any increase of 100 between 100 lumens and 9000 lumens, and strobe
Bulb Type: 3 Cree XHP70 LED
Size: Length: 6.1″ (156mm) Head Diameter: 2.3″ (59mm) Body Diameter: 2.0″ (50mm)
Weight: 14.5 oz. (412g) weight excluding batteries
Battery: Included 7.2V/7000mAh Li-ion battery pack
Included: ARB-L45-14000 battery pack, lanyard, holster, two spare O-rings, USB charging cable, adaptor
Additional Features of the Fenix TK72R
Uses 3 Cree XHP70 LED with lifespan of 50,000 hours – max 9000 lumens
OLED digital screen displays: output, runtime, battery status
Micro USB charging, USB discharging
Inner waterproofing treatment of USB & Micro USB port
Three switches in the neck – easy and fast operation
Three output modes: Low, High and Memory
Instant Turbo
Lockout function
Low-voltage warning function
Digitally regulated output maintains constant brightness
Intelligent overheat protection protects from high surface temperature
Reverse polarity protection to protect from improper battery insertion
Made of durable high-strength and oxidation-resistance aluminum
Premium type HAIII hard-anodized anti-abrasive finish
Toughened ultra-clear glass lens with an anti-reflective coating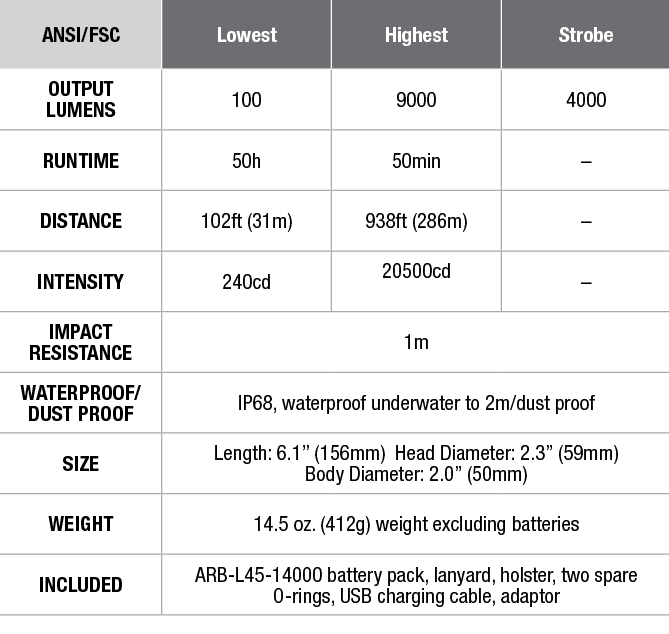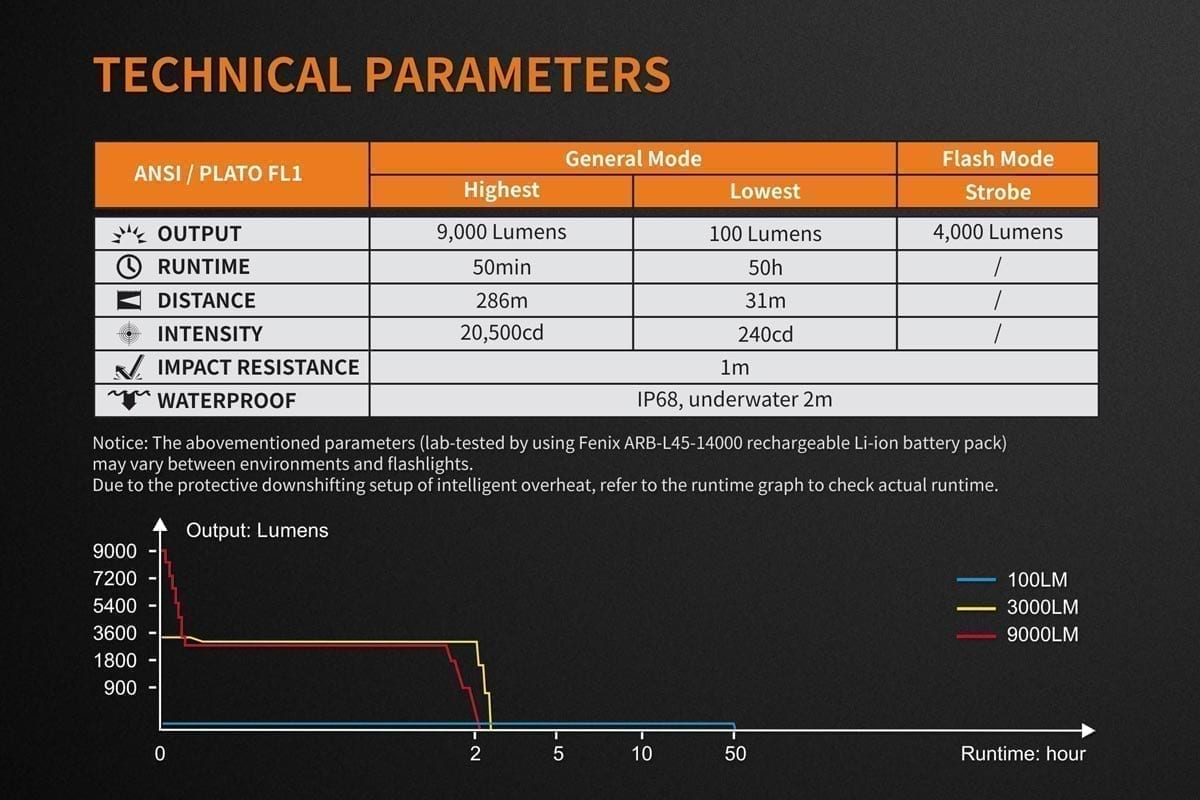 Check out our other Fenix Flashlights
Manufacturer website.