Fenix SD11 diving light is specifically designed for underwater photography and video shooting. The advanced "R+" mode is made for better color rendering with a combination of neutral white LED light and red LED light. R+ mode makes the SD11 an effective light for underwater viewing, photographing, video shooting and even photography on the shore since red light is extraordinarily scarce. Featuring a soft wide beam and R+, SD11 is fit for both illumination and photography on shore or in water. In addition, the 100m waterproof classification, maximum 1000 lumens and low battery warning makes the SD11 perfect for the demands of safe deep diving photography. Easily choose output selection with the magnetic rotating ring while you are diving. The included flashlight clip and camera mount are compatible with most of the sports cameras and DSLRs.
SPECIFICATIONS
Max Lumens: 1000
Max Beam Distance: 148 feet (45 meters)
Max Runtime: 3 hours 40 min.
Lighting Modes: 2 brightness levels, and red
Bulb Type: Cree XM-L2 U2 neutral white LED and Cree XQE red LED
Size: Length: 5.43" (138mm) Diameter: 1.02" (26mm) Head: 1.34" (34mm)
Weight: 4.67 oz. (132.5g) excluding batteries
Battery: One 18650 rechargeable Li-ion batteries or two CR123A Lithium batteries
Included: Flashlight clip & camera mount, diving lanyard, two spare O-rings, brand ring
Additional Features of the Fenix SD11
Uses Cree XM-L2 U2 neutral white LED and Cree XQE red LED, with a lifespan of 50,000 hours
Combined output of neutral white and red light — ideal supplementary lighting for underwater photographing and video shooting
110° super wide beam angle for even and soft lighting effect
Specialized flashlight clip and camera mount for photographing; suitable for most sports and DSLR cameras
Magnetic rotating ring for one-handed operation
Low battery level warning
Illumination design for safe diving
Dual layer body structure; corrosion resistant
Tail cap with big buckle for fast and convenient extraction
Digitally regulated output maintains constant brightness
Reverse polarity protection to protect from improper battery insertion
Made of durable aircraft- grade aluminum
Premium type Ⅲ hard-anodized anti-abrasive finish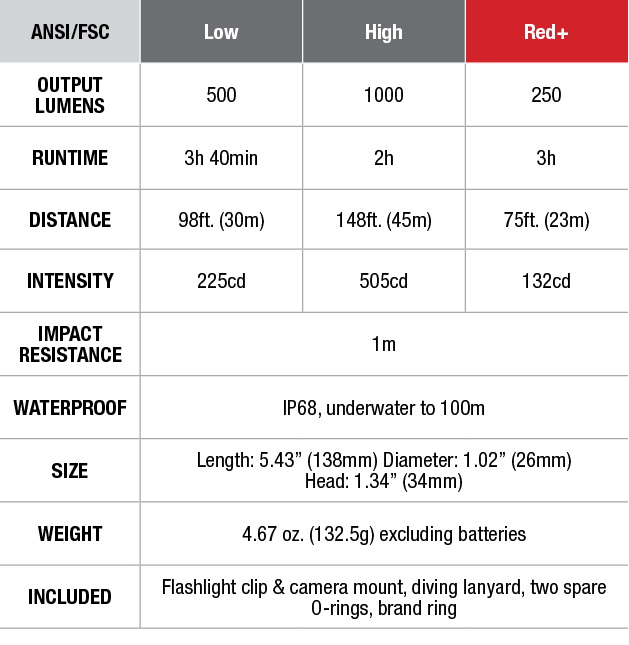 Check out our other Fenix Flashlights
Manufacturer website.