The Fenix LR40R is a high-performance rechargeable flashlight that combines a spotlight and floodlight to blast a max 12000 lumens 2100 feet (700 yards). Quickly charge this 12000 lumen flashlight's battery pack in as little as 3.3 hours via the USB Type-C port, or use the discharge function to charge your other devices. The amount of light that the Fenix LR40R flashlight emits is truly remarkable. It is one of the brightest flashlights on the market. A battery level indicator lets you know the status of your batteries. Extremely small for a flashlight with this much power, only 6.1" long, this flashlight is the perfect tool for exploring and search and rescue. Once you see the raw power of a 12000 lumen flashlight it will be hard to go back to your EDC!
SPECIFICATIONS
Max Lumens: 12000
Max Beam Distance: 2100 feet (640 meters)
Max Runtime: 92 hours 18 min.
Lighting Modes: 4 spotlight brightness levels, 5 floodlight brightness levels, strobe, and SOS
Bulb Type: Cree LED
Size: Length: 6.1" (154mm) Head: 3.2" (80mm) Body: 2.0" (51mm)
Weight: 17.6 oz. (500g) excluding batteries
Battery: Rechargeable Li-ion battery pack (included); one to four 18650 batteries can be used in an emergency
Included: Fenix ARB-L37-12000 rechargeable Li-ion battery pack, USB Type-C charging cable, lanyard, holster, spare O-ring
Additional Features of the Fenix LR40R
USB Type-C fast charging port, quickly ready for outdoor activities.
USB discharging function, backup for digital devices as you like.
Pocket searching flashlight – Handheld comfort, portable convenience.
Featuring spotlight and floodlight for various lighting scenes.
Cree LEDs, with a lifespan of 50,000 hours.
Powered by 4*18650 rechargeable Li-ion battery pack, 1 to 4 18650 battery can be used.
12000 lumens super performance, 773 meters ultra-long beam distance (when max output of spot- and floodlight are simultaneously selected).
Battery level indication and low-voltage warning keep the battery status updated.
Fast lockout function.
Dual side switches for easy and fast operation.
Digitally regulated output maintains constant brightness.
Reverse polarity protection, to protect from improper battery insertion
Made of durable high-strength and oxidation-resistance aluminum
Toughened ultra-clear glass lens with an anti-reflective coating
*Please note this light requires a wall charger that is at least 2 AMPS for proper charging.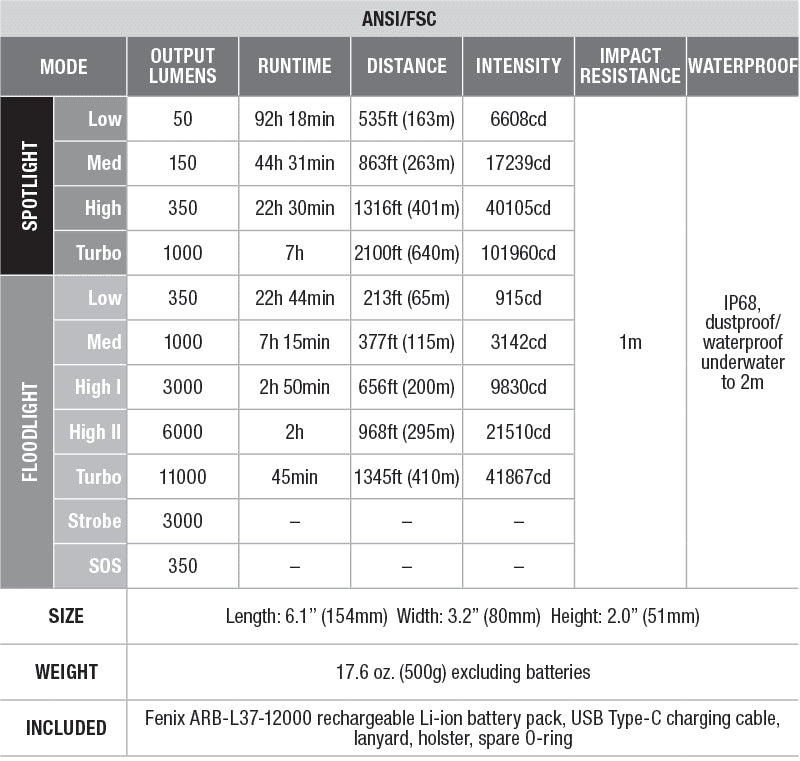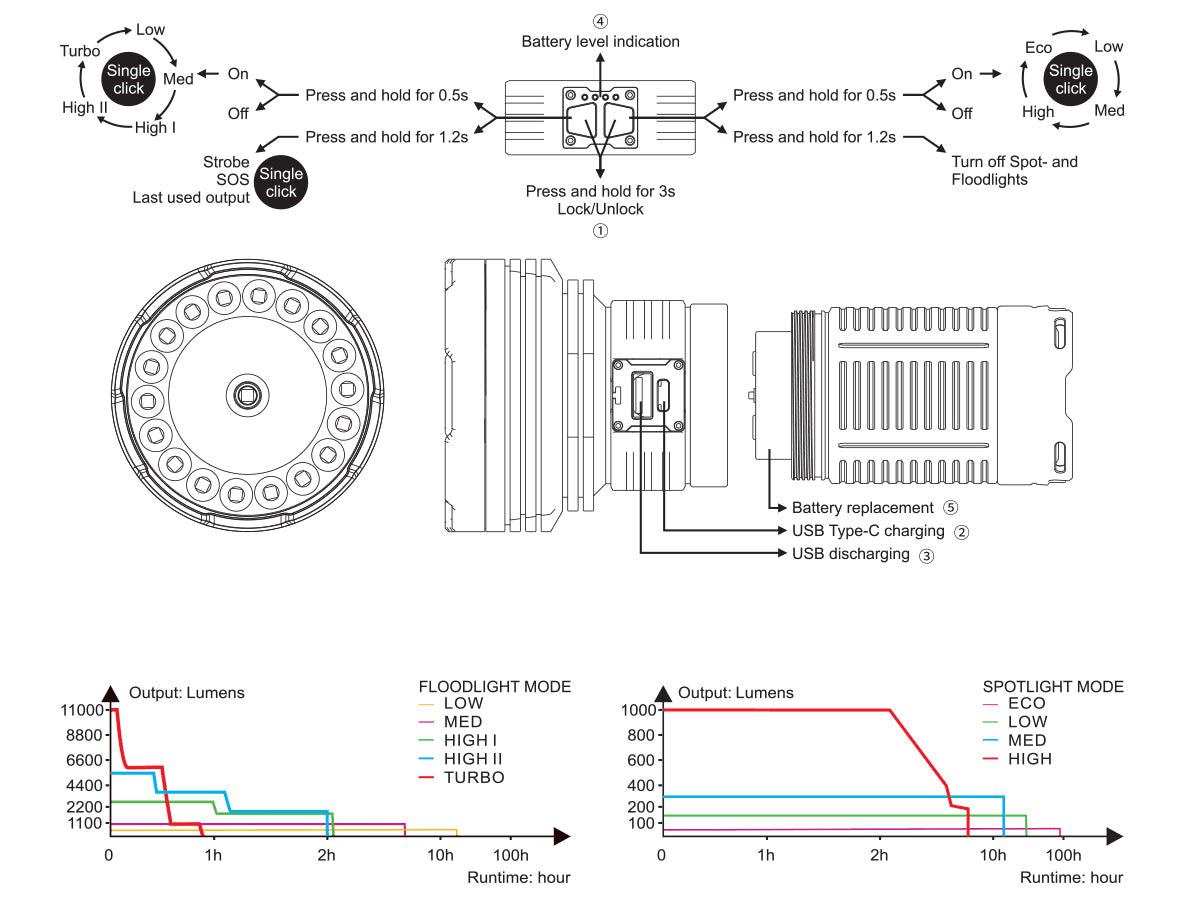 Manufacturer website