The Fenix HL18R-T is a rechargeable headlamp that features the new patented SPORT headband fit system. With a simple click and twist you can easily adjust the fit with just one hand. Powered by the included rechargeable 1300mAh Li-polymer battery pack, the HL18R-T headlamp emits a maximum output of 500 lumens. Separate switches control three brightness levels of spotlight, one floodlight, and SOS. Easily switch out the battery pack for readily available AAA batteries if needed. IP66 rated rain/splashproof, with a 60° adjustable angle, and extremely light weight, the HL18R-T headlamp is the perfect fit for hikers and runners.
SPECIFICATIONS
Max Lumens: 500
Max Beam Distance: 269 feet (82 meters)
Max Runtime: 43 hours
Lighting Modes: 3 brightness levels on spotlight, 1 brightness level and SOS on floodlight
Bulb Type: Cree XP-G3 S3 neutral white and Everlight 2835 white LED
Size: Length: 2.7" (68.5mm) Width: 1.85" (45mm) Height: 1.55" (39.5mm)
Weight: 2.2 oz. (63.2g) including headband/excluding battery; 3.4 oz. with 3xAAA battery for backup batteries; 3.1 oz. with recommended Energizer Lithium AAA for backup batteries; 3.5 oz. with included rechargeable battery pack
Battery: One Li-polymer battery pack (included) or 3 AAA batteries (not included)
Included: ARB-LP1300 Li-polymer battery pack, headband, Micro USB charging cable
Additional Features of the Fenix HL18R-T Headlamp
Cree XP-G3 S3 neutral white and Everlight 2835 white LED's, with a lifespan of 50,000 hours.
Lockout function avoids accidental activation.
Dual switches for easy and fast operation.
Three spotlight and two floodlight output levels.
Micro USB charging port, 5V/1A for direct charging.
Battery level indication reminds remaining battery status.
Patented rotary push-pull clasp for single-handed headband adjustment.
Made of quality plastics and aluminum, three times injection molding process saves O-ring.
*The maximum head size the SPORT headband will fit is 24″ (61cm) or hat size 7 5/8.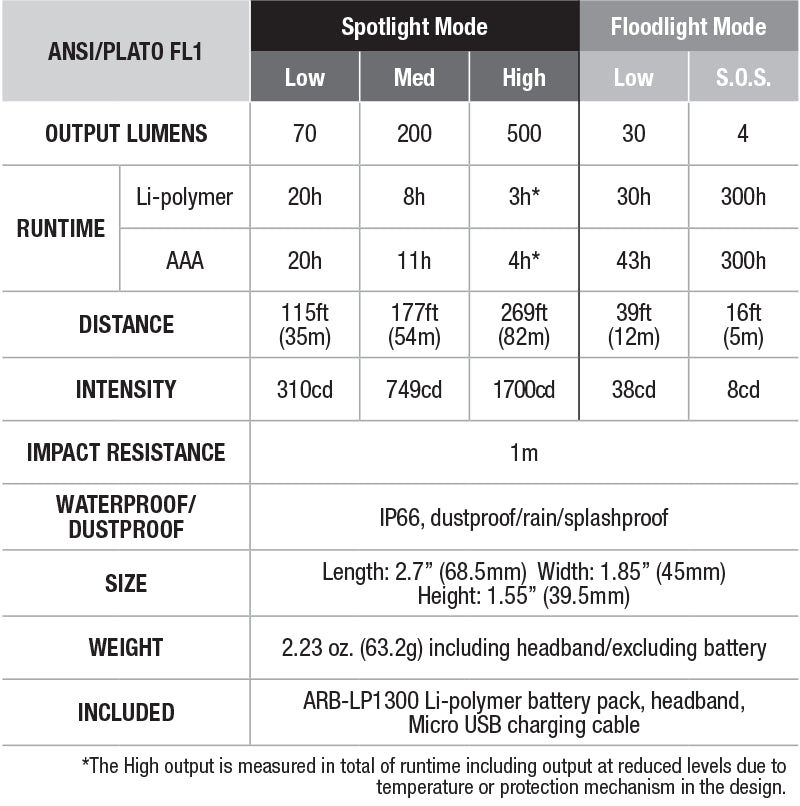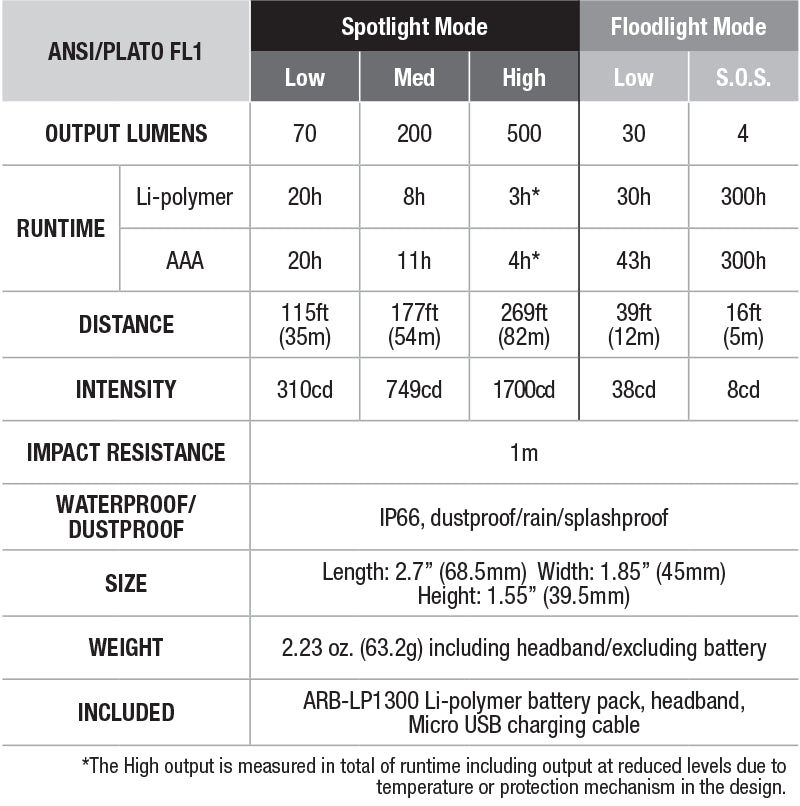 Check out our other Fenix Headlamps
Manufacturer website.