If you want premium lighting at bargain prices, you need look no further than the E35UE. It is the ultimate edition for a reason, providing 1000 lumens of light from a single 18650 rechargeable battery or 2 CR123s. The side-switch design keeps all your functionality located in one easy-to-find place, and the price point makes this one light you can't afford not to have in your arsenal.
SPECIFICATIONS
Max Lumens: 1000
Max Beam Distance: 525 feet (160 meters)
Max Runtime: 150 hours
Lighting Modes: 5 brightness levels, strobe, and SOS
Bulb Type: Cree XM-L2 U2 LED
Size: Length: 4.8" (122mm) Diameter: 0.9" (24mm
Weight: 2.5 oz. (72g) excluding battery
Battery: One 18650 Li-ion battery or two CR123A batteries
Included: Lanyard and spare o-ring
Additional Features of the Fenix E35UE
Utilizes Cree XM-L2 U2 LED with a lifespan of 50,000 hours
Powered by one 18650 rechargeable Li-ion battery or two CR123A Lithium batteries
122mm length x 24mm diameter
72 grams (excluding battery)
Dual side switch for fast and convenient operation
Digitally regulated output maintains constant brightness
Reverse polarity protection, to protect from improper battery installation
Anti-roll and anti-slip body design
Made of durable aircraft-grade aluminum
Premium type Ⅲ hard-anodized anti-abrasive finish
Toughened ultra-clear glass lens with anti-reflective coating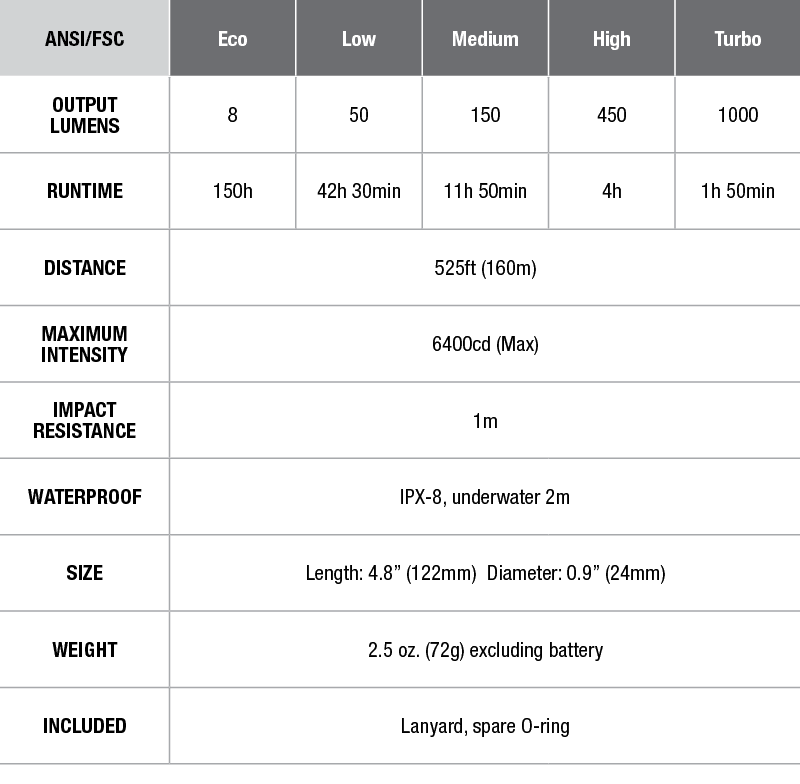 Check out our other Fenix products.
Manufacturer website